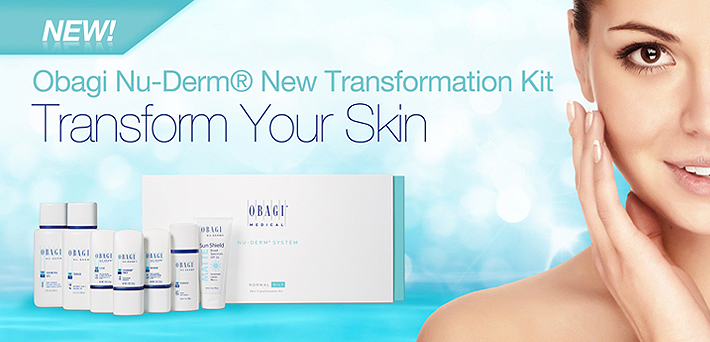 Anti-aging Transformation
Obagi provides three skin care systems: Obagi Nu-Derm System (accelerates skin cell turnover so it looks and acts younger), Obagi-C Rx System (helps the skin to look more radiant and even toned by correcting mild to moderate sun damage), and Obagi Professional-C Serums (potent Vitamin C serums for maximum daily antioxidant protection). Obagi also offers specialized acne and eye treatments.
The Nu-Derm System is the physician-dispensed, prescription-strength skin care system that can actually transform your skin at the cellular level. By addressing the signs of photodamage and restoring the healthy function of your skin cells, this system is clinically proven to result in younger- and healthier-looking skin.
Skin aging is a natural process, but daily sun exposure can contribute to premature aging, slowing down the turnover of skin cells between healthy new cells and old damaged cells.
Signs of aging and photo damage
Age spots
Fine lines and wrinkles
Rough skin
Skin laxity (loss of elasticity)
Erythema (redness)
Sallowness (complexion)
Hyperpigmentation (discoloration)
Obagi Skin Care System can be used to correct the signs of aging skin. Its prescription-strength products focus on repairing the skin at the cellular level, which speeds up its renewal process and diminishes fine lines and wrinkles, sagging skin, hyperpigmentation, and acne.
Obagi Skin Care
Obagi is #1 physician-dispensed skin care system to help reduce visible signs of skin ageing.
Treat your skin with the effective skin care system that provides real result in our expert hand. At the Avenue MediSpa, our cosmetic dermatologist will personally prescribed you the specific program of Obagi skin care system.